Koffie zetten met je smartphone
Meer en meer huishoudelijke apparaten worden connected en zijn op afstand via smartphone of tablet eenvoudig te bedienen. Belkin, bekend van de wielerploeg, komt nu met een connected koffiezetapparaat uit. Te koop voor net iets meer dan € 125. Met de Brew Coffeemaker kun je waar je ook bent de machine aanzetten, de sterkte van de koffie aanpassen en zelfs het apparaat schoonmaken. Dit apparaat is namelijk via Wifi verbonden met internet. De komende maanden gaat de markt overspoelt worden met dit soort connected apparaten.
Hieronder wat Belkin zelf zegt over hun nieuwe manier van koffiezetten.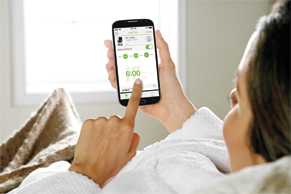 BREW COFFEE FROM YOUR BED
Enabled with WeMo®, the Mr. Coffee 10-Cup Smart Optimal Brew Coffeemaker makes it easy to schedule, monitor, and modify your brew from anywhere. Sleep in a little longer by setting up a brewing schedule in advance. Then monitor your brew status from your smart device to make sure you don't get out of bed before the coffee's ready. The free WeMo® app lets you configure weeks' worth of brew times at once.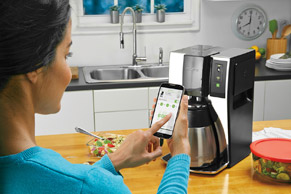 ADJUST BREW TIMES AS YOUR PLANS CHANGE
Use your smart device and the free WeMo® App to schedule or adjust brew time and set up reminders, so coffee is fresh and hot whenever you want it. Schedule from the road to have coffee waiting as soon as you get home. Remotely adjust brew times or turn off the coffee maker as your plans change. The smart functionality of the WeMo® App alerts you when you need to change the filter or empty the carafe.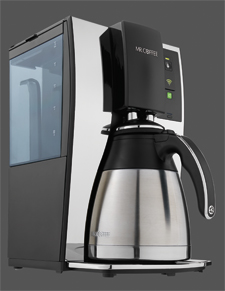 FAST, FLAVORFUL COFFEE
Mr. Coffee Optimal Brew technology heats water up to 98 degrees before releasing it to the filter basket. This temperature is ideal for extracting the most flavor from your coffee grounds. Optimal Brew produces a full pot of coffee in a little under eight minutes--20 percent faster than competitive thermal coffeemakers.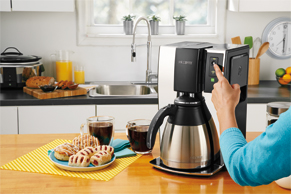 SOPHISTICATED DESIGN WITH BACKLIT INDICATOR PANEL
The Mr. Coffee 10-Cup Smart Optimal Brew Coffeemaker with WeMo® has a black and chrome design that combines elegance and functionality. With just one button on the control panel, and LED lights to indicate WeMo® connectivity, the coffeemaker makes preparation simple. If your wireless internet is down, it's easy to start brewing manually. The sleek, stainless steel carafe is double-walled and vacuum-insulated to keep up to 10 cups of coffee hot and ready.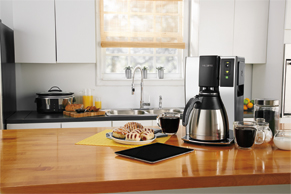 WORKS WITH YOUR SMART DEVICE
This coffeemaker is compatible with Apple (iOS 7.0 and higher) and Android (4.0 and higher) devices. To start remotely scheduling your brew times, simply plug in the coffeemaker and use your smart device to download the free WeMo® app from Google Play, the Apple App Store, or the Amazon App Store.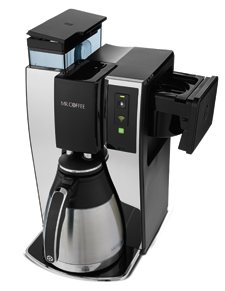 EASY TO CLEAN
Fill the removable water reservoir right in the sink, to avoid spilling or making a mess. The removable brew basket makes it easy to place the filter and grounds inside. Once you've brewed your coffee, remove the brew basket and clean with a quick rinse.